Our Faro Focus 3D scanner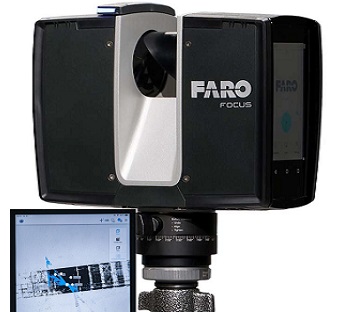 With Faro as our home supplier, we have now reached the 5th generation of scanners with a unique combination of speed, accuracy and resolution. The compact and lightweight scanners can be taken on the plane as hand luggage and therefore enable us to provide our 3DLS services worldwide at low costs. In addition to mobile terrestrial scanning, we can now also offer Object Scanning for products (high accuracy) as well as Drone Mapping for mapping larger sites infrastructure projects.
Faro Focus 3D scanner can be used anywhere
Thanks to the compact dimensions and lightweight, the Faro Focus Premium 3D scanner is ideal for taking on the plane. Our services can therefore be used anywhere in the world. Curious about the possibilities? Then make an appointment with 3DLS.
Capturing the moment in a matter of minutes
Capturing the measurements of a objects or buildings with conventional documentation methods can take days or weeks, and even then there is a high probability the data will contain errors or missing details. With FARO Focus Laser Scanners  we can deliver create accurate, complete and photorealistic 3D images of any environment or object in just a few minutes. With their intuitive touch screen and compact design, these FARO Focus 3D scanners are as easy to operate as a digital camera — with built-in protection from dirt, dust, fog, rain and heat/cold.