Tank analysis
Tank inspections according to API 653 and EEMUA 159 are obligations for owners of storage tanks. 3D Scanning can be used perfectly as support for accompanying measurements and reports. Deformations of storage tanks, but also of walls and floors can be made clear quickly and in detail by using. smart software. Distortions in time can also be compared by comparing point clouds with each other.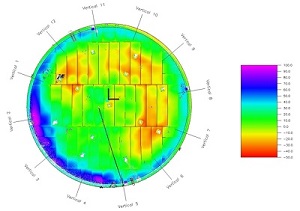 Storage Tank analysis and inspection EEMUA 159 / API 653
Storage Tank integrity inspection is one of our services at 3DLS. We provide a very comprehensive range of techniques & services for the inspection of above and below ground storage tanks. We have qualified 3D scanning technicians to meet the standards of EEMUA 159 / API 653 and have a lot of experience gained from many scanning assignments across the globe. Take a look at our references here.
Please contact us for more information about the advantages of 3D scanning for tank analysis.